Wheel Gauges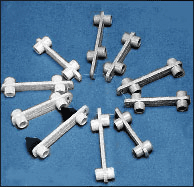 Set of Wheel Gauges
ONLY $19.95
(price includes shipping anywhere in Continental US)
The quickest and easiest way to measure wheel bolt patterns! The Wheel Gauge Set comes as a complete set of 10 gauges, each measuring 2 different bolt patterns, for a total of 20 bolt patterns. Also included in a set are 2 adapters which help the Wheel Gauge center on some wheels as well as center on brake hubs that do not have studs.
Benefits:
Measures most popular bolt patterns, domestic and import.
Go/No-Go design eliminating most decision making by user.
No moving parts for additional accuracy.
Made of self-lubricating nylon for long life.
Two colors, one color for 4-lug and one for 5-lug bolt patterns.
Measures both alloy and steel wheels.
Limited Lifetime warranty against breakage.