Mercedes Wheel Spacers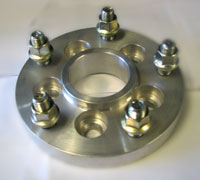 5-Lug Wheel Spacer Set
These are hub-centric and wheel-centric 5-lug spacers. Our products are manufactured in the USA. This set includes (4) spacers and hardware for mounting on your vehicle.
For shipping outside the Continental US, please call for a quote.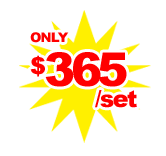 * includes shipping anywhere
in Continental US
Ordering
If you have any questions about adapting your car or truck with a set of custom made spacers please give us a call. We take pride in our craftsmanship and are happy to go over the bolt patterns and other factors that are a part of installation. We understand that adding spacers can be a big decision and we are here to help you with this transition. You will not be disappointed with our service or quality.

Remember, whether you are looking for hub-centric or wheel-centric spacers, we can supply you with the best quality custom made 5-lug products for your vehicle. We custom make all of our wheel adapters and wheel spacers at our factory in California where we can control both the quality of materials used and the quality of the work. We believe that we provide a superior quality product that is manufactured in the USA.

We know that most vehicle owners care a lot about the quality of the products they use on their cars, and that they also take great pride in how their car looks. This is why we only use the highest quality materials. You shouldn't have to compromise on quality just to have a good set up wheel spacers. If you are unsure of which size or type to purchase, please don't hesitate to call. We answer the phone!