Ford Mustang Wheel Spacers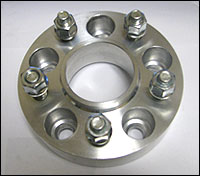 Ford Mustang 5-Lug Spacer Set
Change the appearance of your Ford Mustang with these high quality, affordable wheel spacers. Using a set of spacers will give your Ford Mustang the look of a new set of wider wheels and tires without a huge cost. By adding wheel spacers to your Mustang you will also get the additional benefit of greater driving stability as the tires will fill the wheel wells exactly the way they should.
These ford wheel spacers are a hub-centric and wheel-centric 5-lug spacers for Ford Mustangs. The spacers are manufactured in the United States. Each set includes (4) wheel spacers and the necessary hardware for mounting the spacer on the vehicle. You can easily install a set on you own.
For shipping outside the Continental US, please call for a quote.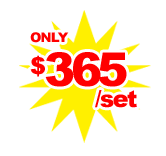 * includes shipping anywhere
in Continental US